Cappitech Makes it Easy to Transfer from CME/Nex-Abide
CME/NEX-Abide who have been a long-standing reputable TR/ARM announced that they are closing their regulatory reporting, Trade Repository/Approved Reporting Mechanism and APA business in the EU/AU. If you are presently using their services, you will be forced to find an alternative solution. As always, with Cappitech you can rest assured that we have you covered. Over the years we have become well versed in onboarding clients using other systems and put in great effort to make this process as effortless as possible for clients. We have an established and practiced process for overcoming the seemingly daunting task of either having to port your data to a new TR /ARM or re-onboard your reporting with a new vendor as well as a trained team to support the process every step of the way.
How Cappitech Makes Switching from CME/Nex-Abide Simple:
Defined and practiced vendor switching process in place. We have done many such transitions in the past.
Flexibility to match your regulatory reporting requirements from day one
NEX-ABIDE plugin allows for easy transfer of data without having to change your format. Simply switch your IP address.
Easy and quick onboarding process of 2-4 weeks with dedicated account manager to guide you every step of the way.
We've been a partner of the CME Trade Repository business for many years and know their business, technology and format inside out
We offer an equivalent solution to the NEX ISCI solution so we have your NPD handling covered
Our reconciliation solution is integrated and does not require an external system
Full multi-jurisdictional reporting for all regulations (MiFID, EMIR, SFTR and more). Improve your operations and cut your costs.
How Cappitech's Solution Works
1
Connect
Create sFTP & drop current reporting files into Cappitech Platform
2
Validate
Data is validated, to catch errors and filter out trades outside the scope
3
Report
Report is submitted to TR or ARM with data available to review on Cappitech's analytics dashboard
4
Monitor
Monitor regularly to verify quality of reporting
See it in action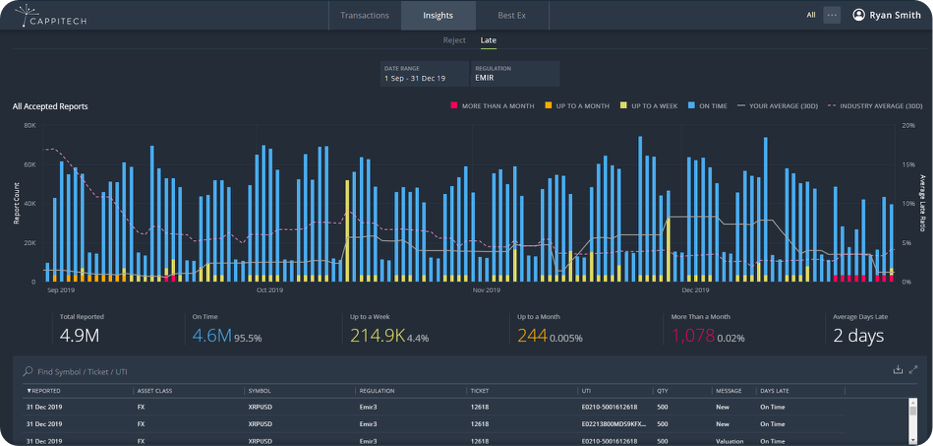 More Compliance Solutions