Reduce MiFID/MiFIR Reporting Headaches with Cappitech
Our innovative solution reduces your reporting headaches and errors while lowering the costs of MiFID II compliance.
Learn More
of the entire EU trading volume is processed by us
Total cost of Ownership (TCO) cost saving
Why Cappitech?
Compliance Reporting in a Single Platform
Full MiFID transaction reporting. The platform also supports many other regulations such as EMIR, SFTR, MAS, ASIC, CFTC and more.

Complete Automation
End to end secured automation, using our advanced data integration platform.

Full Service
Data mapping, data enrichment, report formatting, Approved Reporting Mechanism submissions and back reporting.
Easy Connectivity to Any Data Source
We can capture your trade data in whatever format you have it in and normalized it into a single data structure.

Quick Onboarding
Our professional services team supports every stage of your onboarding process that typically takes 6-8 weeks from kick-off to reporting. The same team will support you once your reporting is live.

Deep Regulatory Knowledge
We provide an easy way for organizations to fast track the learning process around complying with complex and nuanced regulations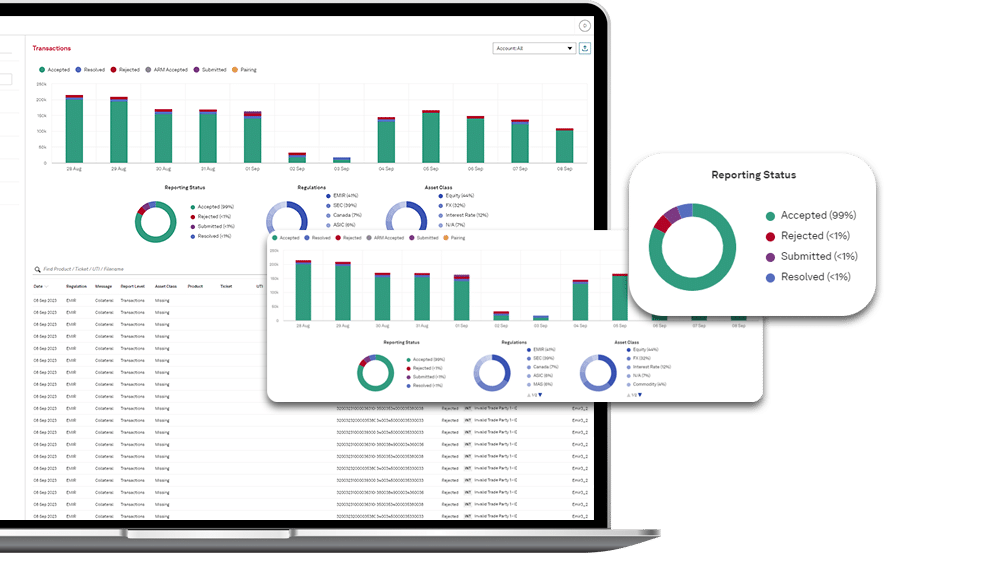 Our Innovative Platform
As technology experts, our platform is designed with flexible architecture that lets you do it all – handle large amounts of data, comply with multi-jurisdiction transaction reporting obligations, extract in-depth business insights from your own compliance data as well as using other publicly available data sources. Experience a fresh new way to comply using our single platform and easy to use dashboard. It's all any compliance professional will ever need.
How it works?
Connect
Connect to your trade data - via push of trade files to sFTP, API integration or pull from DB.
1
Validate
Reports validated for eligibility and field content
2
Enrich
Reports are enriched with static and dynamic data
3
Review
Report is submitted to an ARM, and review notifications are updated to the web dashboard.
4
Want to learn more
Send us your details and we'll get back to you shortly