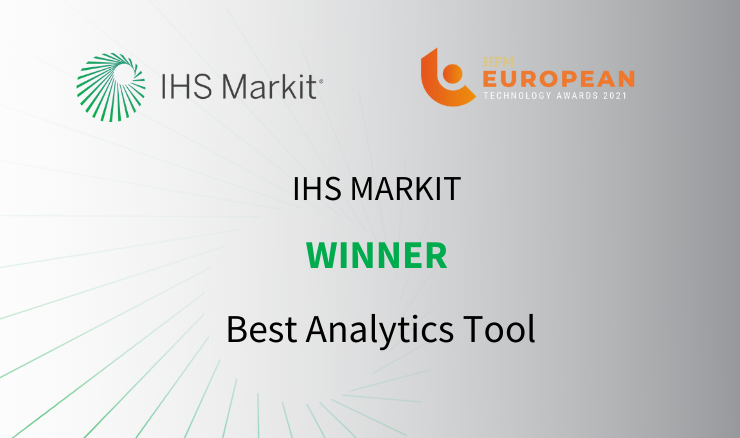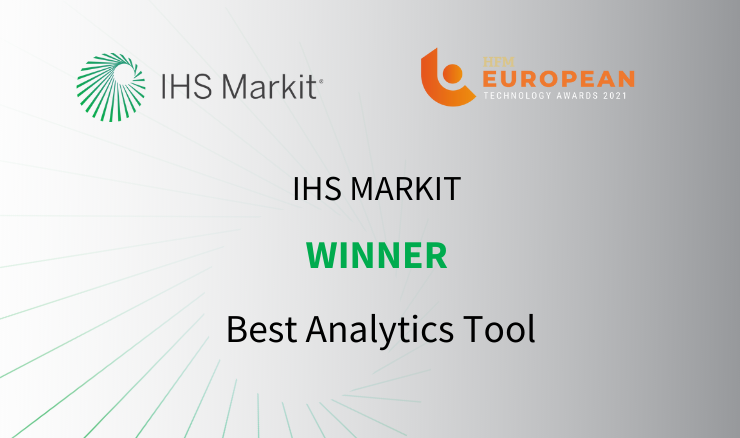 IHS Markit wins Best Analytics Tool at HFM European Technology awards
We are proud to have been awarded Best Analytics Tool at the HFM European Technology awards today. These awards recognise hedge fund service providers who have demonstrated "exceptional client service, innovation and strong and sustainable business growth over the past 12 months".
IHS Markit was recognised for its selection of data analytics tools which are changing how financial market participants meet their compliance obligations, deriving insights from trading data to help customers both comply with reporting requirements and improve decision-making, and ultimately improving P&L.
Our user-friendly web-based dashboard monitors multi-jurisdiction reporting via an intuitive GUI. This year saw the introduction of our new SFTR Insights tool. This offers a cloud-based business intelligence service, via the SFTR portal, and enables firms to visualise and access all their SFTR data.
In particular, clients can:
– Analyse all submissions, reconciliation and reporting since Go-Live via a pre-built or custom-made dashboard
– Benchmark client submissions, reconciliations and reporting against similar organisations.
– Empower organisations with self-service analytics
– Share insights within teams or with clients
– Access granular data with the ability to download up to 1,000,000+ record details
– Visualise information easily using interactive dashboards
Pierre Khemdoudi, Senior Vice President, Equities and Regulatory Reporting at IHS Markit comments, "We're extremely proud of this award because we've always been committed to providing clients a way to maximise the use of the data they generate from complex regulatory reporting processes through better data analytics that help them to benchmark their performance and derive insights to support decision making. We also aim to make these tools as user-friendly and accessible as possible and have invested heavily in the use of data visualisation tools. It is a fantastic testament that this is being recognised by the market."
To learn more about our regulatory reporting and analytics solutions, contact us here