Innovative EMIR Reporting Solution
We offer full EMIR compliance, all through a secured and automated cloud-based compliance platform. Since EMIR regulations went into effect in 2014, hundreds of financial institutions – asset managers, brokers, hedge fund managers and CFD – were jolted into complying with restrictive, confusing new rules. EMIR became an expensive, complicated issue for the finance industry, as well as non-financial corporations.  
At Cappitech we simplify your compliance burden. We automate the complex creation of your EMIR regulation formatted files and submit them to the TR on your behalf. Using our intuitive dashboard, you can monitor your rejects and get drilled-down insights into your trading data. Seeing your data in one place allows decision-makers to make powerful, data-driven choices.
How Cappitech Solves Your
EMIR Reporting Obligations
Automate your daily transaction reports to an ESMA licensed TR
Flexible integration options supporting pull or push of multiple file formats such as CSV, XML and FIX
Enrichment of product codes, counterparty LEIs and UTI generation
Connectivity with external market data for daily MTM valuation
Monitor and manage your rejections and late reporting via intuitive dashboard
Provides highly secure, advanced data encryption, including encrypted and segregated file upload system
Efficient and frictionless reporting, reducing reporting expenses and overall cost of ownership and improve efficiency
Provides file management for access to trade repository-submitted EMIR reports.
Professional services team with deep regulatory knowledge supports your reporting success
How Cappitech's Solution Works
1
Connect
Connect to client trade data, via push or pull
2
Analyse
Reports are enriched with UTI, counterparty and detailed product information
3
Validate
Data is validated, to catch errors and filter out trades outside of the scope
4
Report
Report is submitted to Trade Repository with data available to review on Cappitech's analytics dashboard
See it in action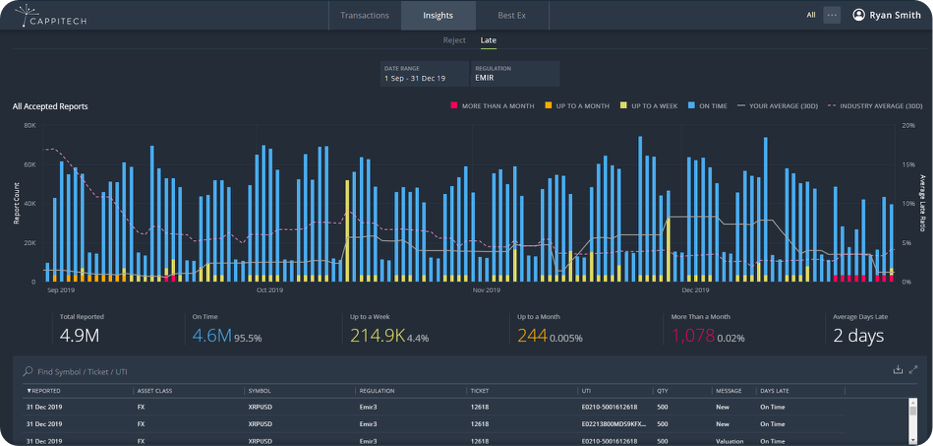 More Compliance Solutions