HKMA Reporting Solution
The Hong Kong Monetary Authority's (HKMA) transaction reporting regime for OTC derivatives was first introduced in July 2015. Since then, reporting requirements have been mandated for authorized institutions (AI), approved money brokers (AMB) and license corporations (LC) under Securities and Futures (Amendment) Ordinance 2014. Transactions are mandated to be reported on a T+2 basis.
Reporting for the Hong Kong regime differs from transaction reporting in other jurisdictions in that while other jurisdictions typically have a range of regulated, private trade repositories, for Hong Kong there is only one – the HKMA TR. Firms with a reporting obligation have the option of reporting directly to the TR, or via a "submitting agent". S&P Global is one of the three approved submitting agents to HKMA TR.
In 2015, CPMI-ISOCO published a consultation paper and provided guidance in terms of how reporting of OTC derivatives should be standardized. From there, we have witnessed several G20 regulators having published their own version of the consultation papers adapted for their local market. More recently, it has been widely speculated that new reporting rules and field requirements may go live mid-2025 at the earliest.
Cappitech specializes in preparing firms for new and changing regulatory reporting obligations. We can help you with the upcoming reporting changes and provide you with the peace of mind you need, knowing our solution is trusted by over 550 customers around the world.
How Cappitech can solve your HKMA reporting obligations
Industry regulatory expertise
Trade determination and eligibility logic
Integration with any source system (vendor or proprietary)
Ability to ingest data in any format
Robust infrastructure to handle large volumes
Numerous connectivity options
Full transparency into submissions with metrics and MIS
Comprehensive reconciliation tool
How the Cappitech Solution Works
1
Integrate
Trade, product and entity data from customer
2
Validate
Data is validated for reporting eligibility and field content
3
Enrich
Reports enriched with static and dynamic data
4
Review
Report is submitted to a Trade Repository and review notification are updated to the web dashboard
See it in action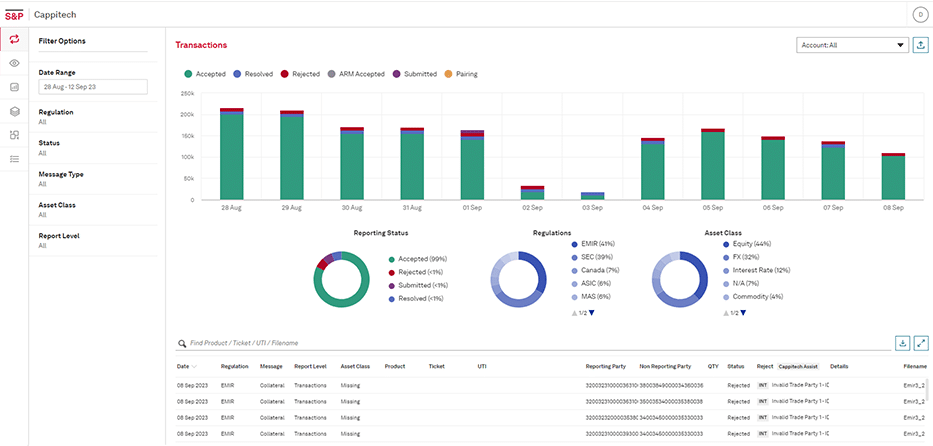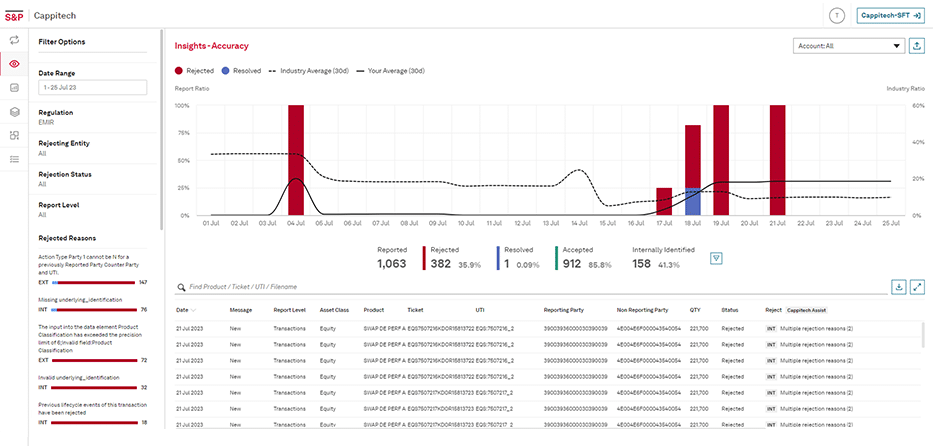 What is HKMA reporting?
Post the Great Financial Crisis in 2009, Dodd-Frank was first introduced as one of the largest and most comprehensive financial regulations. One of the main objectives was to restore public confidence and to prevent another financial crisis from occurring.
Regulators around the world have introduced its version of financial regulation in the OTC space. The Hong Kong Monetary Authority's (HKMA) transaction reporting regime for OTC derivatives was first introduced in July 2015 for firms to submit details of their derivatives transactions to the HKMA trade repository.
Which financial institutions are in scope for HKMA reporting?
The mandatory reporting obligations apply to an entity that is:
Authorized institutions (see HKMA Register of Authorized Institutions for this)
Approved money brokers (see HKMA list of approved money brokers)
Licensed corporations (see the Securities and Futures Commission public register of licensed persons & registered institutions)
Recognized clearing houses
There is an exemption for firms with under USD 30 million of aggregated notional amount of all outstanding OTC derivatives transactions.
Which products need to be reported under HKMA?
All OTC derivatives across Interest Rates, Credit, Equity and, FX derivatives.
When do the HKMA rules rewrite come into effect?
CPMI-ISOCO harmonization of reporting standards was aimed to commence late 2022. Each regulator may have their own timeline around that targeted commencement period.
The process of updating the AIDG specifications is expected to begin with the publishing of a consultation paper during Q3 2023
More Compliance Solutions