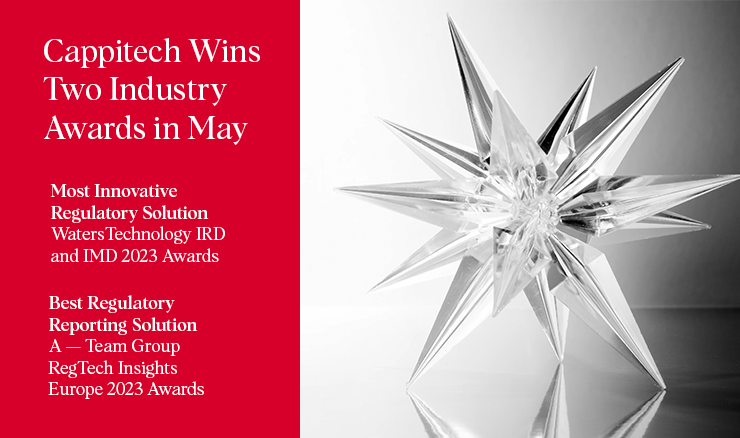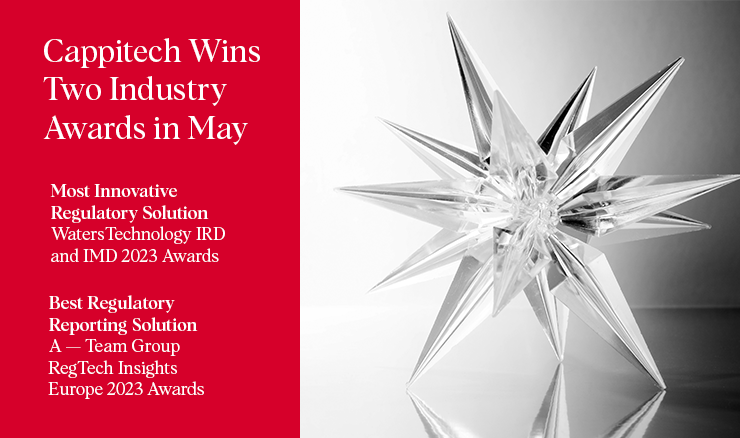 Double Triumph: Celebrating Two Prestigious Industry Awards in Europe
In May, we were extremely proud to have won two important awards in Europe – "Most Innovative Regulatory Solution" in the IRD and IMD 2023 Awards, hosted by Waters Technology, and "Best Regulatory Reporting Solution" in the RegTech Insights Europe 2023 Awards, hosted by the A-Team Group.
These awards come at a time of significant change in the European regulatory reporting environment, with firms particularly focused on preparations for the EMIR REFIT, due to go live in less than a year.
EMIR REFIT introduces several complex new requirements throughout the reporting process. In addition to aligning reporting with SFTR by adopting the ISO 20022 XML format for submissions and expanding the number of reportable fields, there is now a specific deadline of 10am UTC T+1 for the dissemination of UTIs. To solve this industry challenge, Cappitech has designed a platform called Global UTI Connect that will connect counterparties to pair and exchange UTIs.
Our teams are working hard on preparing for the EMIR REFIT, alongside constant improvements to our existing platform. This was recognized by both awards programmes with the judges for the IRD and IMD awards specifically highlighting our "eponymous transaction reporting platform [that] takes care of the heavy lifting associated with capital markets firms' transaction reporting requirements, providing them with increased levels of automation, transparency and comfort in the knowledge that their mandates have been satisfactorily met, freeing them up to focus on their core functions."
As always, we are grateful to our customers and teams, as well as Waters Technology and the A-Team Group, for their ongoing support. We remain committed to maintaining and enhancing our platform to accommodate future changes and industry needs.