Canadian Reporting Solution
Cappitech's innovative, seamless solution provides you with cloud-based Canadian reporting and validation. It easily connects with trade data to create compliant formatted files to automate your entire reporting process.  
Although similar to Dodd-Frank and other Derivative Reporting regulations, Canadian Transaction Reporting has unique characteristics that it introduced. Since going into effect, this regulation has become a complicated, expensive issue for brokers, banks, and fund companies alike. Cappitech's experience providing solutions for Canadian and global transaction reporting regulations help firms easily comply with the requirements and reduce the day-to-day headaches with compliance.
How Cappitech can solve your Canadian reporting obligations
Full automation of your daily transaction reports, sent to a licensed Trade Repository
Straightforward integration of your existing trade files and APIs
Enrichment of product codes, counterparty LEIs and UTI generation
Intuitive dashboard gives you in-depth insights into ongoing reporting
Experienced professional services team, providing expert advice on instrument reporting eligibility
GAP analysis to review your product scope
Lowered cost of both your reporting expenses and overall cost of ownership
Fully secure, encrypted and segregated file upload system
How the Cappitech Solution Works
1
Connect
Connect to your trade data - via push of trade files to sFTP, API integration or pull from DB
2
Validate
Data is validated to check for errors and filter out trades not under scope
3
Enrich
Reports are enriched with UTI, counterparty and other product information
4
Review
Report is submitted to the relevant Trade Repository with messages available to review on the web dashboard
See it in action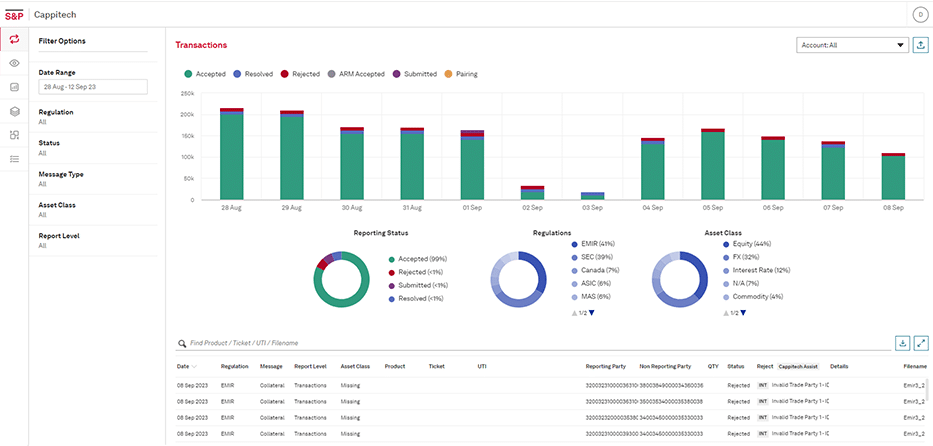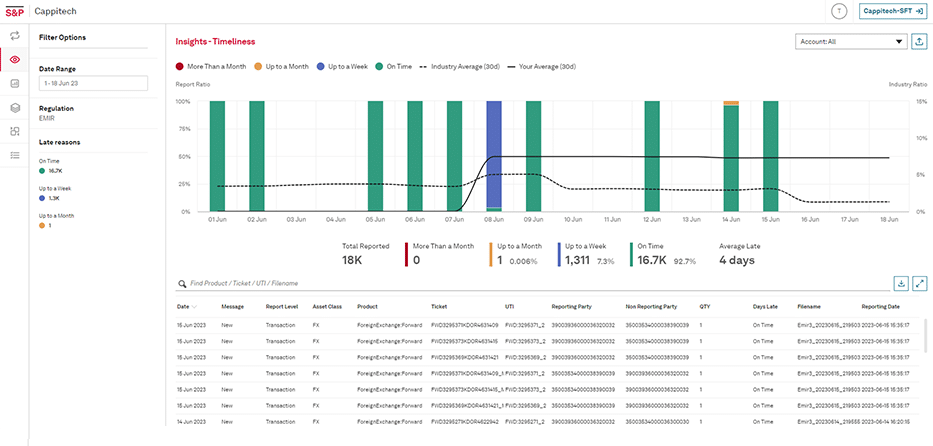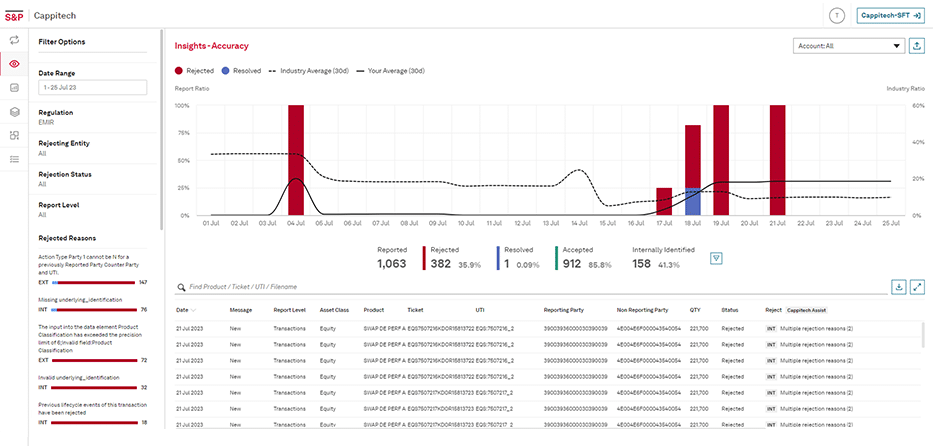 What is Canadian OTC derivative reporting?
Put in effect for dealers from 2014 and non-dealers in 2015, Canadian derivative reporting requires firms to submit daily reports of information relating to their OTC derivative trades.
Firms familiar with Dodd Frank reporting in the US will find similarities between the formats of the two regulations.
What products and asset classes fall under scope?
Canadian OTC derivative reporting covers equity, commodity, FX, interest rate and credit asset classes, with all derivative products under scope.
What information is reported?
Derivative reports include details of counterparties to the trade, execution time, product details, notional amounts, mark to market valuations, transaction price, clearing details (if relevant) and provincial details.
Is a LEI needed for reporting?
Yes, other than individuals, each counterparty to a trade, regardless of whether they have a Canadian OTC reporting obligation or not must have an active Legal Entity Identifier (LEI) used to identify them within the report.
To whom is data reported to?
Canadian derivative reports are submitted to an approved trade repository. Currently the DTCC, CME Group and ICE operate repositories to support report submissions.
Are reports similar across all 13 provinces?
Yes, each province has individually passed the OTC derivative reporting regulation. Within the report formats are indicators for firms to enter provincial details of their entity and counterparties.
What derivative trades are exempt from the regulation?
Exchange traded derivatives (ETDs)
T+2 physically settled FX spot trades
Physical delivered commodity derivative transactions
More Compliance Solutions