SEC SBS Reporting Solution
Derivatives trade reporting was first introduced in the U.S. as part of the implementation of the the Dodd-Frank Wall Street Reform and Consumer Protection Act (The Dodd-Frank Act) in 2010. In 2013, reporting requirements for OTC derivatives kicked in for hundreds of financial institutions. Reporting includes trades, positions and valuations and for many firms this obligation creates significant challenges, particularly around the timeliness of the submissions (real time), accuracy and the operational model of supporting the ever-changing requirements.
Even though the U.S. is a single-sided (one side reports for both counterparties) regime, determining which trades are reportable, and by whom can be very complex and costly for firms to build and maintain. Is the trade executed on SEF or DCM, cleared or uncleared, tie-breaker and waterfall logic, these are just some of the considerations firms have to implement in order to achieve regulatory compliance under the Dodd-Frank reporting rules.
As of November 8, 2021 SEC SBS reporting is now live and in scope market participants are required to report trades to a Security Based Swap Data Repository (SBSDR).
Cappitech can help make sense of the reporting obligations and provide you with peace of mind knowing our solution is trusted by over 550 customers around the world.
How Cappitech can solve your SEC reporting obligations
Industry regulatory expertise
Trade determination and eligibility logic
Integration with any source system (vendor or proprietary)
Ability to ingest data in any format
Robust Infrastructure to handle large volume
Numerous connectivity options
Full transparency into submissions with metrics and MIS
How the Cappitech Solution Works
1
Integrate
Trade, product and entity data from customer
2
Validate
Data is validated for reporting eligibility and field content
3
Enrich
Reports enriched with static and dynamic data
4
Submit
Report is submitted to a Trade Repository and review notifications are updated to the web dashboard
See it in action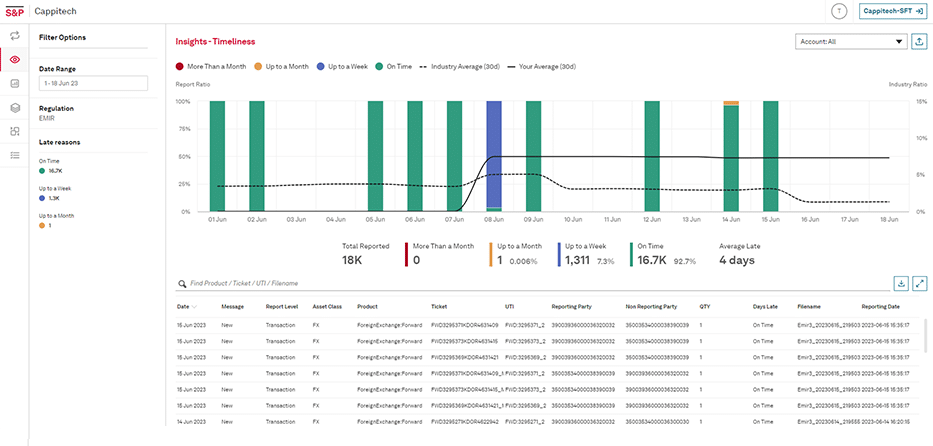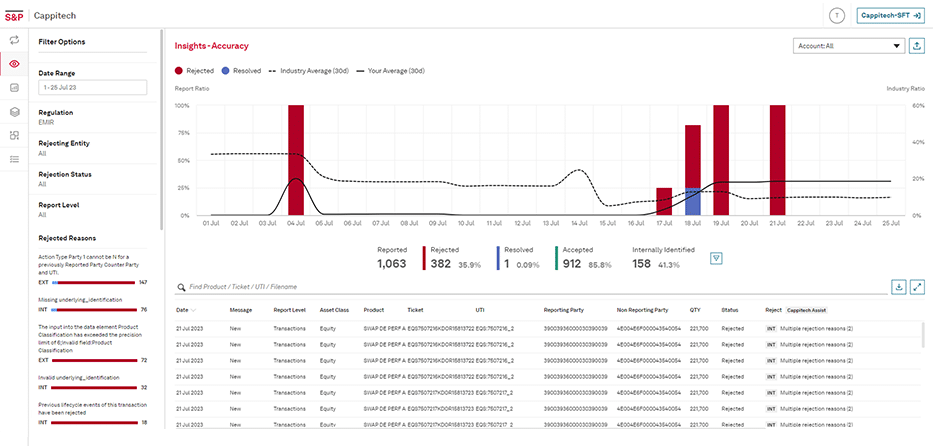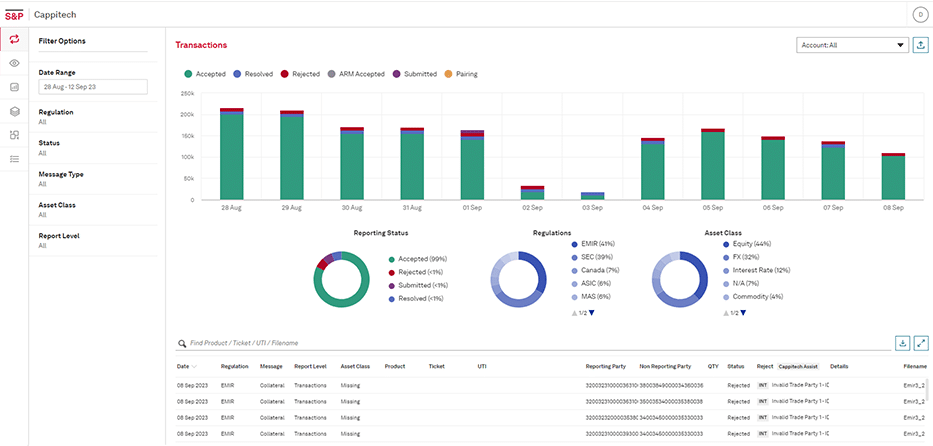 What is SEC reporting?
Securities based swaps (SBS) are now reportable, as of November 8, 2021 to a registered Securities Based Swap Data Repository (SBSDR).
SBS covers Over the Counter (OTC) derivatives transactions that reference a single name (equity or credit) or a narrow-based index.
Similar to the CFTC requirements, SEC is a single side reporting regime and requires one side of the transaction to report. Both the CFTC and SEC reporting rule are part of the Dodd-Frank Act.
What are the key SBSR timelines?
Compliance Date 1: Reporting newly executed SBS on or after the first Monday that is the later of:
– six months after the date on which the first SBSDR that can accept transaction reports in that asset class registers with the SEC (the first SBSDR was approved May 7, 2021); or
– one month after the compliance date for registration of security-based swap dealers (SBSDs) and major security-based swap participants
Compliance Date 2: Public dissemination will commence the first Monday that is three months after Compliance Date 1
Compliance Date 3: All historical SBS in that asset class must be or have been reported to a registered SBSDR two months after Compliance Date 2, to the extent that such information is available
More Compliance Solutions