Transaction Reporting
Get a clear view of every report submission status and lifecycle.
Improved Accuracy
Benchmark your compliance KPIs against peers and learn how to rectify your transaction reporting rejections.
Improved Timeliness
Monitor the timeliness of your submissions and drill down into the details of late submissions to identify any underlying problems in your reporting process.
Best Execution Monitoring
Easily measure the quality of your executions (price, slippage and latency) against your personalized policy.
Delegated Reporting
Automate reporting submissions for your customers and provide them with reporting visibility through a dedicated read only dashboard that shows their data only.
Why Cappitech?
Our Benefits

Innovative, Flexible Technology
Scalable, SaaS solution. We handle big data and efficiently automate regulatory reporting. Some of our clients report volumes as high as 10m transactions daily.

Single Reporting Hub
One point of contact for multiple jurisdictions, monitoring, contracts and billing.
Remain Informed
Our intuitive, user-friendly dashboard gives you the transparency you need to easily manage your transaction workflow and KPIs.

Lower cost of ownership
Significantly lower the cost of your transaction reporting and save time through automation and quick onboarding.
Seamless Integration
Across trading platforms, file types and formats.

100% Secure
Secured NPD and LEI masking
Instant Insights
Drill down into compliance and market data to obtain actionable insights that impact your bottom line.

Deep domain expertise
Our regulatory experts help monitor your reporting & quickly fix reporting issues.
How it works?
1
Connect
Data collection from customer DB, file upload or API
2
Validate
Reports validated for eligibility & field content
3
Enrich
Reports enriched with static & dynamic data
4
Submit
Reports submitted to ARM/TR & monitored on dashboard
Architecture matters
Built with Compliance Managers in mind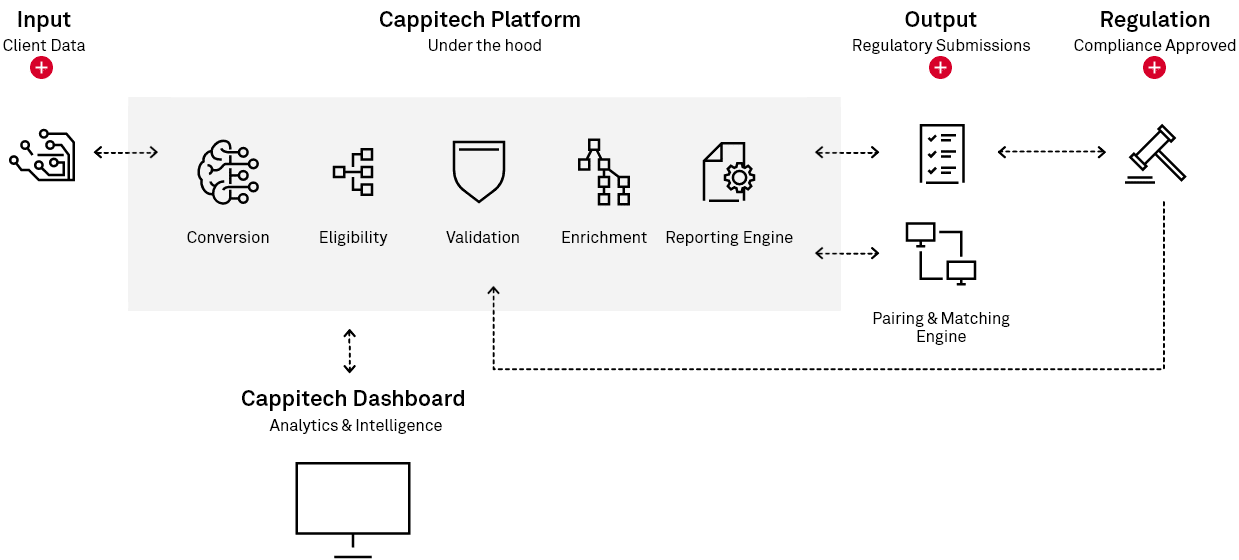 FTP/SFTP
(CSV/XML/FIX)
DB Access
(Pull)
EMIR
MiFIR
SFTR
FinFrag
SEC
CFTC
Canadian Reporting
ASIC
MAS
HKMA
JFSA
Best Execution
Trade Repository (TR)
Approved Reporting
Mechanism (ARM)
National Competent Authority (NCA)