SFTR Reporting Solution
Alleviate your SFTR reporting headaches, all while keeping compliant. In partnership with Pirum Systems, Cappitech provides an end-to-end reporting solution for the most complex banks, brokers, asset managers and corporates. Our industry-leading solution services the majority of those with an SFTR obligation and covers transactions such as repo/reverse repo and buy/sell back; securities loans and borrows; commodities loans and borrows; prime brokerage margin lending transactions and collateral re-use.
Post-April 2020, EU firms are required to submit daily reports for their Securities Financing Transactions. Covering Repos, Buy-Sell Back trades, Securities Lending and Margin Lending (currently exempt from MIFIR and EMIR reports),  SFTR reports have to be submitted in XML ISO 20022 format.
The solution provides a smooth process to upload trade data, and see it automatically enriched with UTI and product details supported by a team of SFT experts. The reports are then seamlessly submitted to a TR (Trade Repository) – all without any manual interaction.
How Cappitech Can Solve Your SFTR Reporting Obligations
Complete solution for SFTR reporting, analytics and managed services
Single regulatory dashboard to cover both SFTR and other global regimes
Connected to all major ESMA licensed trade repositories
Data feeds, processing amendments, enrichment and matching in real time
Pre and post-trade report matching, pairing, UTI creation and submission details
Conversion of files formats to SFTR-required XML ISO 20022 format
Option to provide delegated reporting of bilateral trades with client counterparties
Secure integration features including encrypted and segregated file upload system
How the Cappitech Solution Works
1
Connect
Connect to your trade data - via push of trade files to sFTP, API integration or pull from DB
2
Validate
Data is validated to check for errors and filter out trades not under scope
3
Enrich
Reports are enriched with UTI, counterparty and other product information
4
Review
Report is submitted to the relevant TR with feedback available to review on the dashboard
See it in action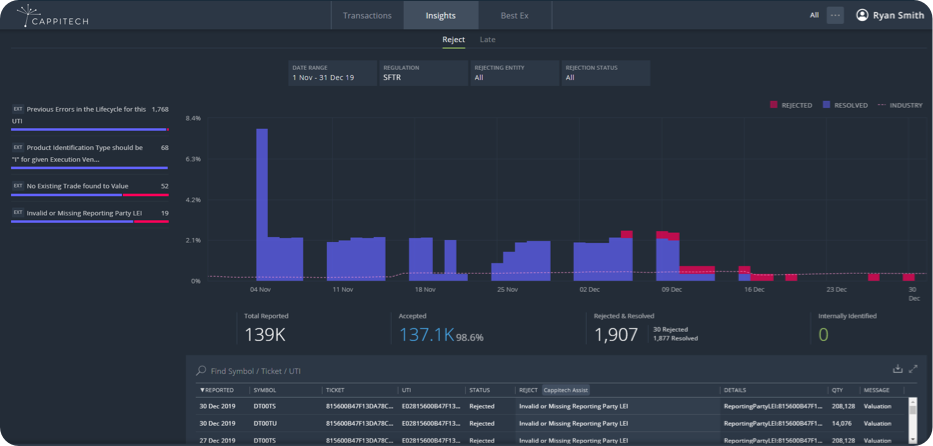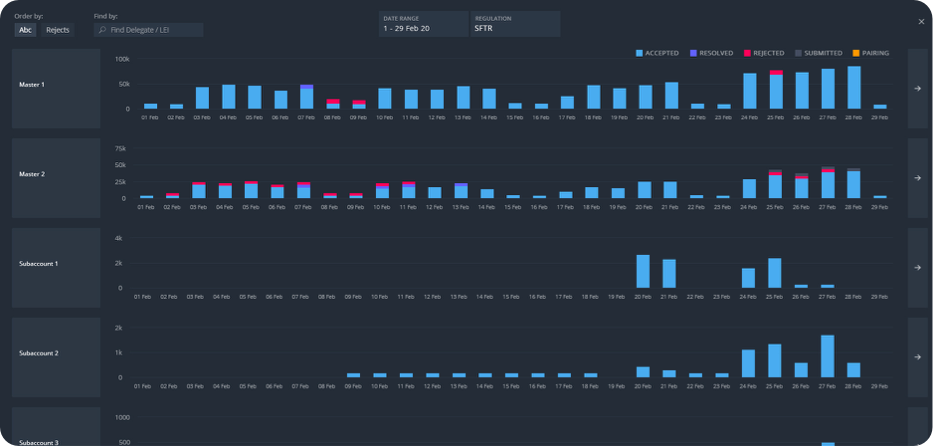 What is SFTR?
Securities Financing Transaction Regulation, better known as SFTR, is a new regulation reporting created by the European Commission and supervised by ESMA. The regulation is similar in its format to that of EMIR, but instead of covering derivatives, it covers Security Finance Transactions (SFTs).
When did SFTR start?
The first phase of SFTR went into effect on July 2020 for sell-side, CCPs and CSDs. The next phase of SFTR will go into effect in October 2020 for the buy-side and in 2021 for non-financial firms trading SFTs.
Is back reporting of open SFTs required?
Yes. Positions that are open term or have an expiration date of 180 days from the go-live date are required to be reported within 190 days of a firm's go-live date.
Why this new regulation?
Companies transacting in Securities Finance Transaction (SFT) has increased dramatically, with the market of total outstanding Repos in Europe estimated at over €5 trillion. With SFTR, regulators aim to have more information on company exposure to their SFTs as well as collateral amounts behind the positions.
Who has to report?
EU firms have to report daily. The SFTR regulation casts a wide net of firms under scope including investment firms, insurance companies, banks, NFCs, credit institutions and CCPs
What has to be reporting under SFTR?
SFTR reports must be submitted T+1. There are four main SFT types that need to be reported under SFTR:
Repurchase Agreements (REPOs)
Buy/sell back agreements
Securities lending
Margin lending
What are SFTs?
SFTs are primarily loans between two parties where one firm is providing an asset as collateral for cash. For example, in an Repo, one firm gives $1m in bonds for $1m in cash. They then have an obligation to repurchase their bond in a month for $1,001,000. The $1000 difference between the sell and buyback price is the repo rate.
What does the SFTR report consist of?
The SFTR includes details relevant to the transaction such as:
Counterparties involved
Loan value
Collateral being given for the loan
Interest rate being paid back and the end of the loan
Where are SFTR reports submitted too?
SFTR reports are sent to designated trade repositories (TRs) which are regulated under SFTR, and who manage and secure the data and make it available solely to regulators. Currently there are four TRs approved by ESMA; the DTCC, REGIS-TR, UnaVista and KDPW.
More Compliance Solutions