Global Regulatory Reporting Insights
Improve your Operational Accuracy with Compliance KPIs
Request a Demo
Trade analytics that provide actionable insights
With Our Insights, you get valuable and actionable insights into your regulatory reporting at the touch of a button including the top rejection reasons and granular data on late reports. Accessible via an intuitive dashboard, Insights allows compliance officers to set Key Performance Indicators (KPIs) and measure their compliance reporting capabilities against the industry standard. 
Cross-regulation, it covers client reports for MIFIR, EMIR, MAS, SFTR, Canadian and ASIC Derivative Reporting.
Benefits
Improve your rejection rates and resolve problems before reports get submitted to the regulator.
Monitor the timeliness of reporting and drill down into the details of late submissions to identify any underlying process problems
Deliver on your compliance KPIs - use your performance data to set regulatory reporting KPIs and work systematically towards these targets.
Track your reporting capabilities performance against the industry average
How the Cappitech Solution Works
1
Report
Clients submit trade data for transaction reports
2
Validate
Data is validated with rejection messages logged
3
Index
Success/rejected messages & timeliness records aggregated. Systematically report to regulatory body
4
Review
Statistics made available on Insights dashboard
See it in action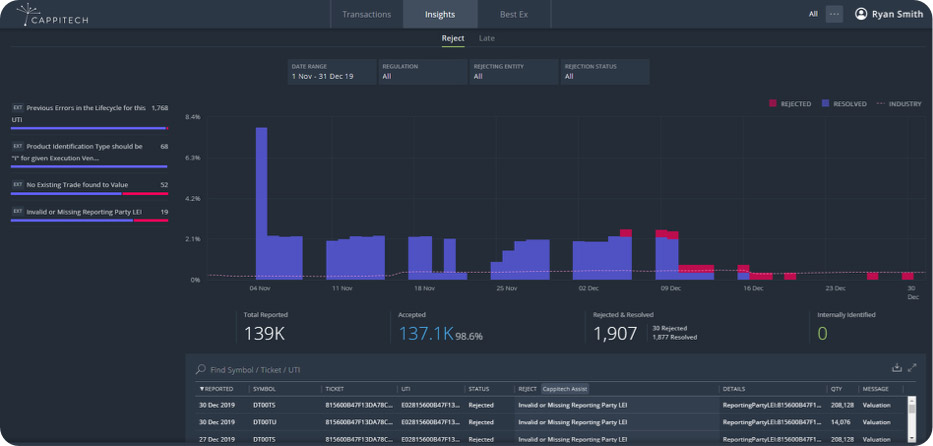 More Compliance Solutions