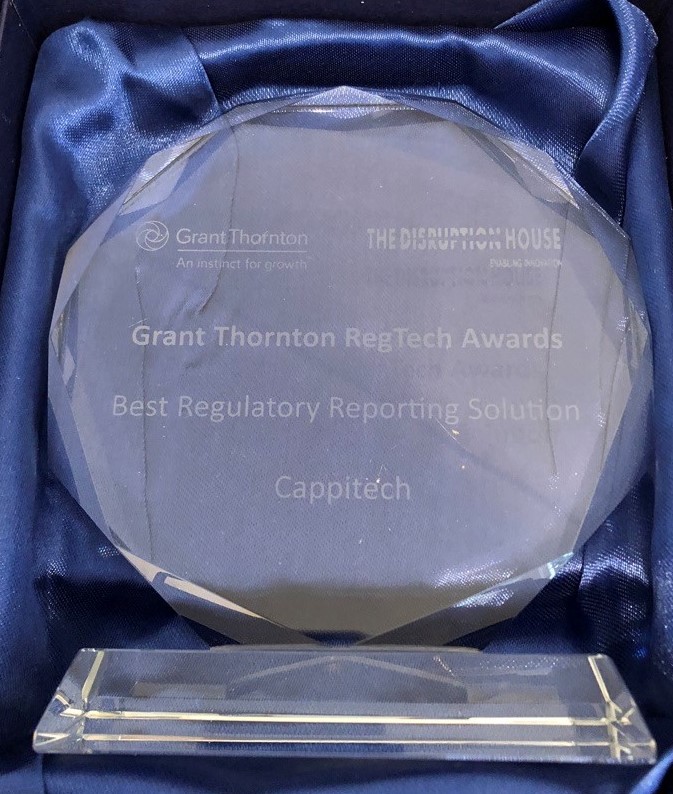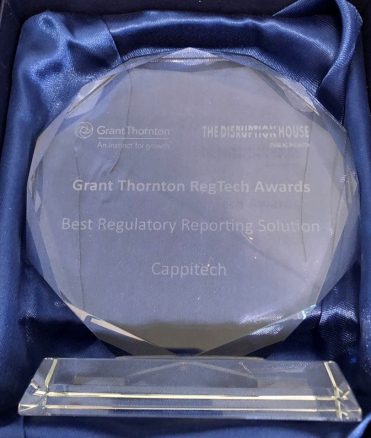 Cappitech Wins Best Regulatory Reporting Solution at Grant Thornton Regtech Reporting Index Awards
Cappitech was awarded "Best Regulatory Reporting Solution" at the inaugural Grant Thornton RegTech Reporting Index awards last night in London.
According to Grant Thornton, these awards "have been designed to both acknowledge and emphasise the growing RegTech ecosystem, highlighting the wide array of technologies and solutions that can be offered to firms in solving their regulatory reporting pains and issues."
Ronen Kertis, CEO and Founder of Cappitech, said: "We are very proud to be the first firm to receive this award which reflects our commitment to addressing regulatory challenges efficiently in order to reduce operational risk and costs while simultaneously providing instant intelligence on business operations for our users. We look forward to being part of the Grant Thornton RegTech Reporting Index as we continue to engage with existing and new clients who are facing increasing regulatory reporting burdens and are looking to improve their reporting processes and systems."
"Congratulations to Cappitech for being selected from a very strong group of regtech companies nominated this year," said David Royle, Partner at Grant Thornton, Financial Services Business Consulting. "Cappitech was chosen for its comprehensive regulatory reporting solution that pushes the boundaries while future proofing for new and upcoming regulations."
Cappitech's platform enables companies to comply with regulatory reporting regimes across multiple jurisdictions while simultaneously delivering business and competitive insights derived from embedded compliance data and combining it with publicly available data. Integration is quick and efficient, highly secure and user-friendly and brings added value for regulatory compliance.
Contact us to learn more about our regulatory reporting solutions.