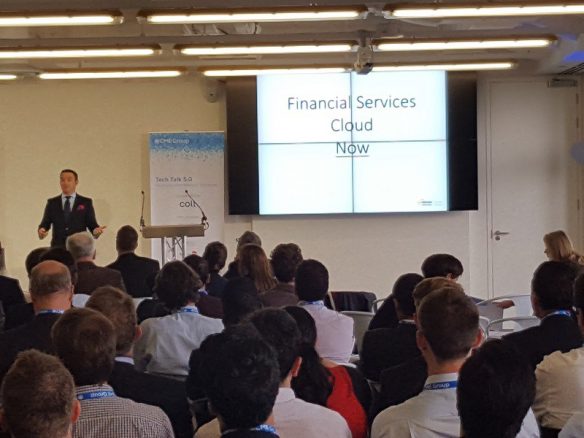 Financial compliance in the cloud? It's happening everywhere, along with EMIR Regulation
As a cloud based provider of EMIR regulation reporting services, an oft asked question is whether the financial industry is ready for public cloud hosted platforms?
For good reason, major firms in the financial industry have long favored owning their 'own stack' as a means of protecting customer details and sensitive trading information.
But, a combination of increased security standards from public cloud providers such as Amazon's AWS, Google App Engine, Microsoft Azure and IBM BlueMix and a cost cutting taking place across the board at major banks and financial institutions has led to a migration of services reaching the cloud.
In November 2015, and recently updated this month, the FCA issued a guidance paper for firms outsourcing services to the cloud. The paper notes various recommendations such as understanding security risks and installing processes in place to monitor the ongoing cloud service.
Taking into account their guidance, the FCA stated that:
"We see no fundamental reason why cloud services (including public cloud services) cannot be implemented, with appropriate consideration, in a manner that complies with our rules."
This stance is important, as it set a regulatory position on a technology trend that is providing immense value to companies around the world. A major appeal of the cloud for the financial industry are cost savings and shared infrastructure that the cloud provides.
CME Tech Talk 5.0
The cloud and finance were a major topic during the CME Group's Tech Talk 5.0 event which made its first appearance in London after previously taking place in the US. Taking place in Level39, Canary Wharf, earlier this month, Cappitech Regulation was an event sponsor of the technology forum, and also operates as a business partner with the CME Group's European Trade Repository to provide delegated reporting for EMIR regulation (more on what are Trade Repositories).
One Canada Square, Canary Wharf – Home to Level39
Focus on the product
In place of cost, leading the way among firms is migrating to the cloud to leverage shared services and ease of scaling technology to improve their products. As a result, among financial products that are being powered by cloud technology are many consumer facing systems such as banking apps and investment platforms.
Through the cloud, it becomes easier for financial firms to clone variations of their product which can be adapted with new features and quickly rolled out as consumer interests change.
Compliance
Another area that is benefiting from cloud technology is the handling of financial compliance and accounting. The scalability of the cloud provides allows service providers and financial firms to create new instances of their compliance reporting software to handle new business units or customers.
In addition to migrating data to the cloud, many financial firms are also seeing benefits in using 3rd party hosted products to help with their compliance needs. The hosted solutions are coming to replace the very prevalent installed license model where financial firms run localized versions of 3rd party software on their own databases.
In this capacity, the cloud versions provide two main operational benefits. Firstly, human and tech resources needed to host the software is handled by third party service provider. Secondly, firms no longer need to worry about keeping their version of the compliance product up to date, as upgrades to the cloud software are provide simultaneously to all clients. In regards to compliance, the latter benefit is an important one as financial firms don't need to worry about regulatory changes due to software upgrades handling it for them.
Last, cloud vendors are typically able to provide cost benefits to their customers. This is due to shared resources of the software being leveraged across all customers.
For those interested in wanting to learn more about how Cappitech's cloud EMIR reporting solution and how we can save you time, reduce your compliance headaches and limit your reporting expenses; learn more here.