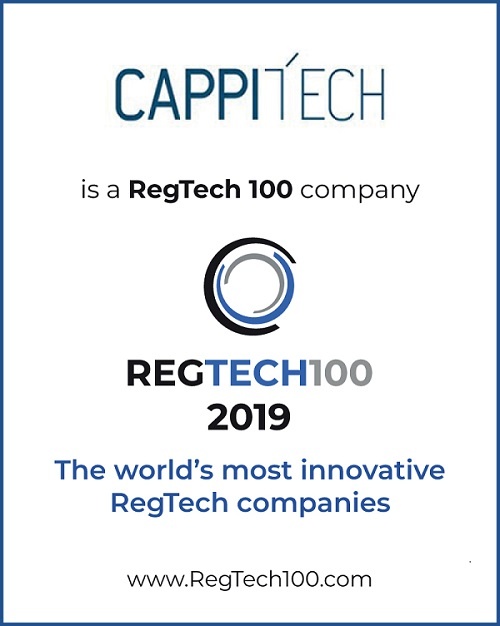 Cappitech Named One of the World's Most Innovative Regtech Companies
The 2019 RegTech 100 rankings recognise pioneering companies transforming compliance, risk management and cybersecurity through technology
Cappitech, a leading provider of regulatory reporting and intelligence technology for the financial services industry, today announced that it has been named one of the most innovative RegTech companies globally.  The 2019 RegTech 100 awards recognise the innovative use of technology to solve a significant industry problem, or to generate cost savings or efficiency improvements across the compliance function.
With over 800 companies shortlisted, an expert panel of judges comprising analysts and industry experts selected the 100 most innovative technology solution providers.  The RegTech 100 is powered by FinTech Global, a data and research firm.
"Being named a RegTech 100 winner is a great honour," said Ronen Kertis, CEO and Founder of Cappitech.  "At Cappitech we help financial institutions do more than merely comply with regulatory requirements; we provide intelligence at-a-glance, enabling market participants to drive value back into the business.  We are delighted to have been recognised as a RegTech100 company for a second consecutive year."
Capptivate is Cappitech's market-leading regulatory reporting and intelligence platform which offers customers innovative technology and analytics so they can comply with cross-regulation obligations – including MiFID II, MiFIR, EMIR, ASIC, Best Execution monitoring, RTS 27, RTS 28 and Canadian transaction reporting requirements – and compete more effectively in the marketplace.
Some of the features that distinguish Capptivate include:
Multi-jurisdiction: From a single trade file source, Capptivate can create and submit files to the regulator for EMIR, MiFID I/II and ASIC transaction reports.
File-format agnostic: Capptivate can consume any file format from customers including those from popular trading platforms such as Fidessa, Bloomberg and MetaTrader as well as proprietary systems.
Analytics dashboard: All reported data is available to view on an easy-to-use and visual web based dashboard. The dashboard also allows the download of raw report files.
Best execution: Functionality allowing asset managers, hedge funds, brokers, banks and other financial institutions to demonstrate they are reviewing execution quality on a systematic basis. (More on Best Execution)
Looking for MiFID II, EMIR or Best Execution technology? Let us know how we can help