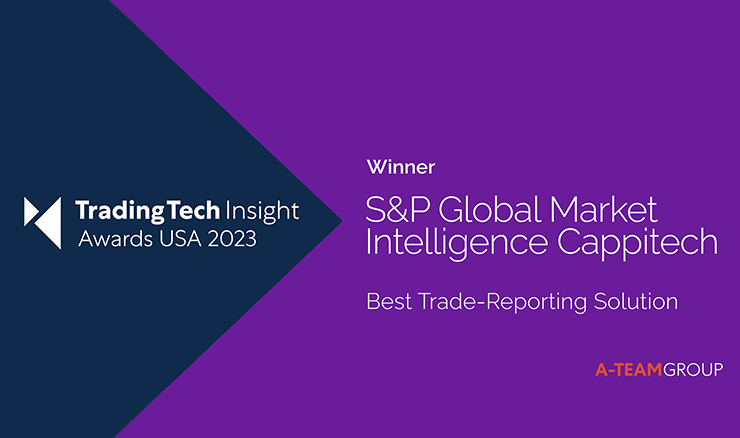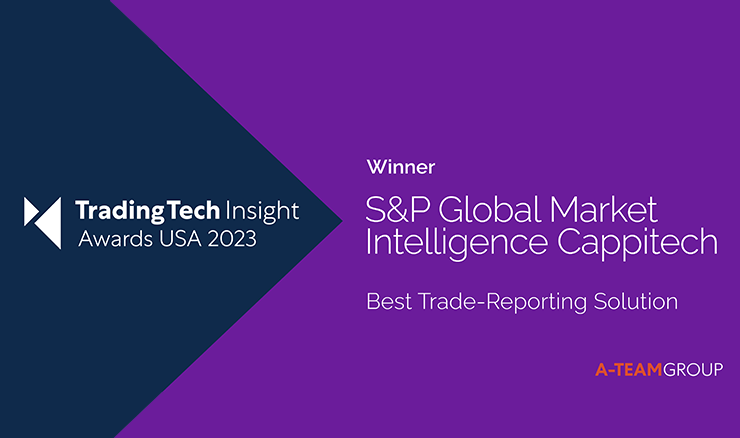 Cappitech Wins Prominent US Award
At the Trading Tech Insight Awards USA 2023 held last week, S&P Global Market Intelligence Cappitech was very proud to be awarded Best Trade Reporting Solution.
Cappitech is proud to be recognized by Trading Tech Insight which is a great testament to the tireless efforts of our teams around the world and in the U.S. in particular to deliver a state of the product and service for our clients.
In the U.S. , the CFTC Rewrite, which went live in December 2022 was the most significant change to regulatory reporting in the region in over a decade and our teams worked tirelessly to ensure that all of our clients were live in a testing environment ahead of time, and fully prepared for go live which went extraordinarily well.
Of course, inevitably, regulatory reporting changes aren't going away, and CFTC Phase 2 is currently an important consideration across the industry. There are a number of new elements to be factored in  such as the need for increased standardization across jurisdictions for critical data elements and the implementation of a Unique Product Identifier (UPI)
As we've expanded our offering and service in the US, along with growing our team locally as well as onboarding new clients, we'll be continuing to focus on ensuring our local clients are prepared for changing US regulation while also being able to access our global services whenever they have specific jurisdictional requirements such as in Europe or Asia.
We believe this is at the heart of us winning this award, with Angela Wilbraham, CEO at A-Team Group and host of the Trading Tech Insight Awards saying, "Our awards recognise leading providers of trading technology solutions, services and consultancy to capital markets in North America and S&P Global – Cappitech has proven themselves to be worthy winners of this prestigious title. We congratulate them on winning Best Trade-Reporting Solution in recognition of their contribution to the financial trading technology industry."
This award follows recent wins in Europe were the A-Team Group also awarded Cappitech "Best Regulatory Reporting Solution in Europe" in their RegTech Insights Europe Award 2023 and Cappitech won "Most Innovative Regulatory Solution" in the IRD and IMD 2023 Awards, hosted by Waters Technology.