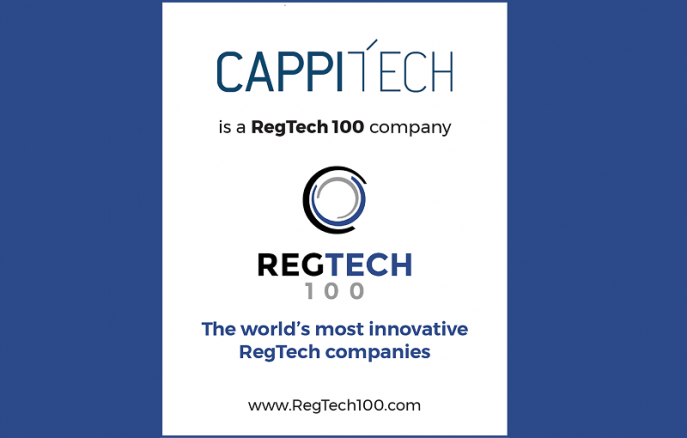 Cappitech Regulation selected as RegTech100 company
Cappitech continues to be recognized as a leader in the fast growing RegTech, being listed as a RegTech100 company. Cappitech's inclusion in the list is after 416 RegTech companies were reviewed. The reviewal and selection process was conducted by FinTech Global, a data and research firm.
The inclusion on the RegTech100 list continues Cappitech being recognized as a leading RegTech firm. Earlier in the year, Cappitech was featured as part of the RegTech Universe map collated by Deloitte. Specifically, RegTech researchers are seeing value in Cappitech's regulatory reporting solution.
Centered around our Capptivate reporting platform, Cappitech has created a multi-jurisdiction solution for handling transaction reporting. By connecting to investment firm trade data, Capptivate automates the creation and submission of regulatory transaction reports.
Some of the features that distinguish Capptivate from our competition and have been recognized by the RegTech industry include:
File-format agnostic – Cappitech customizes Capptivate to consume any file format from our clients. This includes formats from popular trading platform such as Fidessa, Bloomberg and MetaTrader as well as proprietary systems.
Multi-jurisdiction– From a single trade file source, Capptivate can create and submit files for EMIR, MiFID I/II and ASIC transaction reports.
Analytics dashboard – All reported data is available to view on an easy to use and visual web based dashboard. The dashboard also provides access to download raw report files.
Best execution – New for the coming MiFID II regulation in 2018, Cappitech has added a Best Execution module. This allows clients to have their report trades compared to external benchmark rates. (More on Best Execution)
RegTech innovation
With new financial regulation being put into effect around the world and billions of dollars spent by investment firms to comply, RegTech has become one of the most important sectors in the FinTech space. As such, RegTech firms are being sought for their ability to provide services to increase efficiency and lower the total cost of compliance.
Beyond regulatory reporting, other areas of RegTech that are seeing strong demand include KYC/AML solutions, risk management, automated compliance Gap Analysis and trade surveillance.
Looking for MiFID II, EMIR or ASIC technology? Let us know how we can help