Cappitech Releases EMIR Regulation Dashboard to Power Reporting Analysis
To be publicly displayed at the iFX EXPO in Limmasol, Cyprus, Cappitech is launching a dashboard to provide visual analytics to help customers gain more insight from the Capptivate EMIR Derivative Reporting platform.
Hertzliya/Limmasol – Since going into effect in February 2014, EMIR Regulation has created reporting requirements for over the counter (OTC) and exchange traded derivatives (ETD). Yearly expenses related to companies handling the regulation are already well above one billion dollars and expected to grow as more financial and non-financial firms affected by EMIR begin to comply with the rules.
To provide companies affected by EMIR efficiency through automation technology and access to lower transactional costs, Cappitech launched Cappitech Regulation, a standalone fintech entity focused on providing solutions to automate regulatory reporting. Cappitech Regulation's technology is based on their cross-regulation reporting Capptivate platform which connects to client trade data, maps it to conform with regulatory filing fields, validates the information and reports to trade repositories on their behalf.
Adding greater functionality to increase reporting value for Capptivate users, Cappitech has launched a trade reporting dashboard. A web-based and mobile friendly solution, the dashboard provides customers the ability to gain greater insight of their submitted trades through visual based reports. The creation of the dashboard was the result of feedback from customers as well as using insight from projects built by the Cappitech team over the last 15 years.
Available analysis includes historical reports on submitted, rejected and approved trades. Reports are also available to display trades per counterparty source and asset class. Customers can also search orders by individual UTI or internal trade number to query a visual chain of events related to specific orders.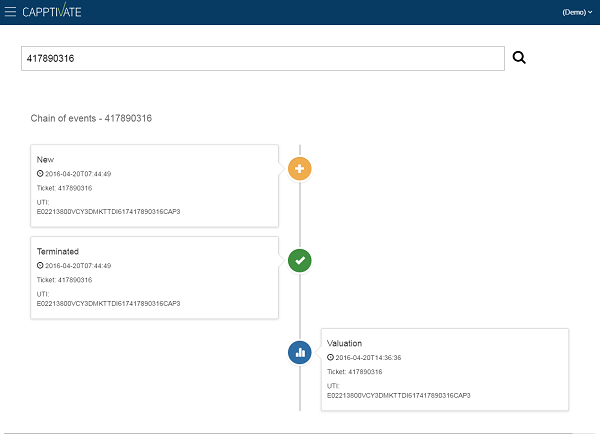 "EMIR regulation is a difficult and expensive process to comply with" stated Ronen Kertis, CEO of Cappitech. "Along with introducing automation through our Capptivate platform, we wanted to provide more value adding features for our customers. We believe that through our dashboard, compliance officers and risk personnel will be able to gain more insight on their EMIR regulation reporting and easily be able to drill down to review individual orders."
Cappitech will be displaying the Capptivate visual dashboard for the first time publicly at this year's iFX EXPO in Limmasol, Cyprus, May 24th and 25th.
About Cappitech:
Since their inception, Cappitech has believed in using technology to increase efficiency for financial firms. For over 15 years, they have achieved this goal his by building customized technology services for financial companies and through their new Cappitech Regulation unit, a fintech company that automates EMIR regulation reporting on their Capptivate platform. Cappitech customers include fintech startups and publicly listed financial firms, and include ITG, Traiana and eToro.