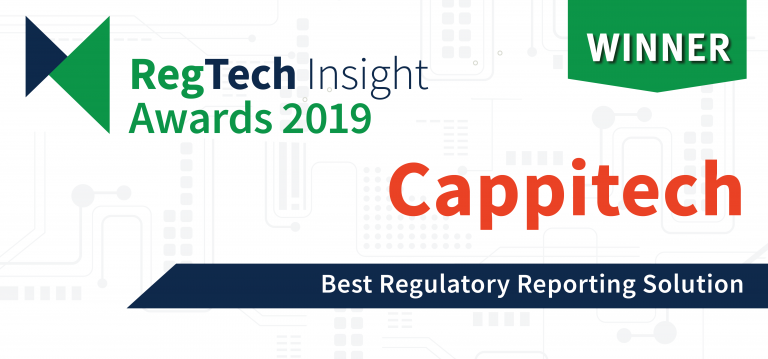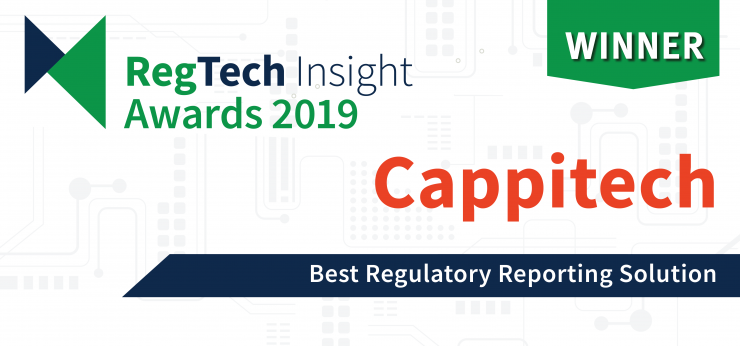 Cappitech Wins "Best Regulatory Reporting Solution" In Regtech Insight Awards
Cappitech has been awarded "Best Regulatory Reporting Solution" in the RegTech Insight Awards. The awards identify and highlight leading providers of RegTech solutions, services and consultancies focused on helping market participants overcome the challenges inherent in regulatory compliance.
Ronen Kertis, CEO and Founder of Cappitech, said: "This is a highly competitive category so we're extremely pleased that both industry participants and the judging panel voted Cappitech the Best Regulatory Reporting Solution. We are honoured that RegTech Insight has recognised our platform as a solution that is revolutionising the way financial market participants meet their compliance obligations."
Angela Wilbraham, CEO of A-Team Group, commented: "We are delighted that our cross-platform readership of over 20,000 senior technology officers and data specialists clearly rated Cappitech as the Best Regulatory Reporting Solution in a very competitive field. We congratulate them on their prestigious RegTech Insight Award win."
Cappitech's cloud-based cross-regulation platform, CapptivateTM, recently launched MAS reporting capabilities and will add additional regulations and jurisdictions during the course of 2019. More than 100 financial services clients, reporting over 1 billion transactions annually, rely on Cappitech to meet their compliance obligations.
Winning the RegTech Insight award was the direct result of excellent customer service combined with multiple new products and enhancements in 2018, including:
– Enhancements to MiFID II transaction reporting, notably KPI management for Complete Accurate and Timeliness reporting
– Best execution, a product comparing transaction data with third party market data to analyse whether execution was within a firm's best execution policy, a functionality that does not require additional integration for reporting firms
– RTS 28 Market Intelligence which extracts analytics from publicly available RTS 28 reports, allowing financial institutions to use regulatory compliance data to their own advantage
– MAS reporting which supports full lifecycle and position reporting formats
– Reconciling transaction reporting that compares data from a client's trading system to transaction data collected by their NCA (such as the Financial Conduct Authority's MDP file)
– Intelligence-at-a-glance: an analytics dashboard that offers a unified view of reporting data across regulations.
Contact us to learn more about how our regualtory reporting and intelligence solutions can help you.