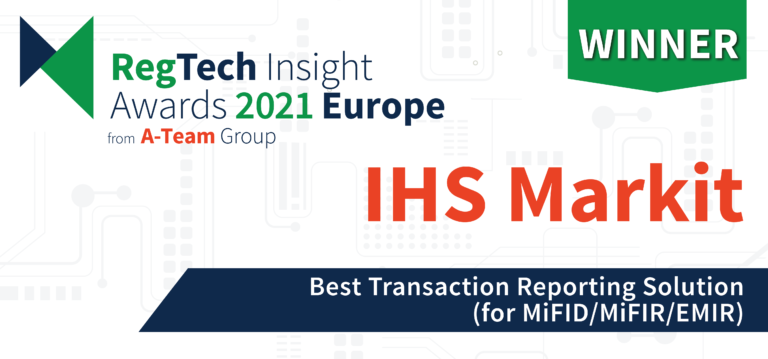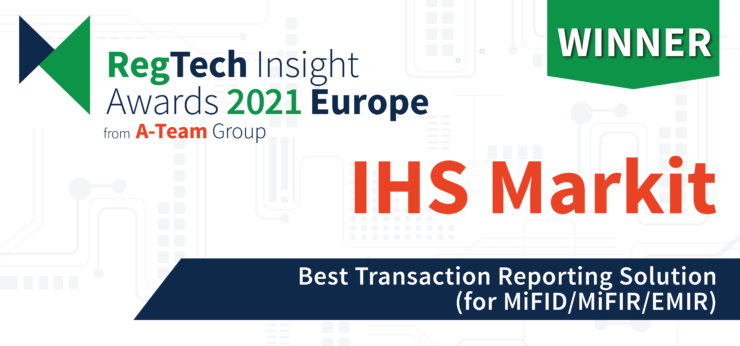 IHS Markit wins multiple awards at RegTech Insight Awards Europe 2021
Alongside firm wins for Best Transaction Reporting Solution and Best Compliance as a Service Solution, Ron Finberg, Business Development Director, Global Regulatory Reporting Solutions at IHS Markit awarded Best RegTech Vendor Professional
We are pleased to have accepted three awards in the RegTech Insight Awards Europe awards today, reflecting the industry's support for our market-leading products and services designed to facilitate and automate transaction reporting for the financial services industry.
IHS Markit received awards for Best Transaction Reporting Solution (for MiFID, MiFIR, EMIR) and Best Compliance as a Service Solution. The IHS Markit Global Regulatory Reporting Solutions business was formed following the acquisition of Cappitech by IHS Markit in January of this year and offers financial services clients a full suite of regulatory reporting, best execution analysis and business intelligence products and services via a cloud-based, cross regulation SaaS platform.
Ronen Kertis, Head of IHS Markit Global Regulatory Reporting Solutions said, "These awards are given based on voting from across the industry, and are a testament to the value placed on our services by the market and the clients we serve. We look forward to continuing to provide a full suite of best-of-breed transaction reporting services, via a single user-friendly dashboard that works across regimes and jurisdictions.
In addition, to the company awards, Ron Finberg, Business Development Director, Global Regulatory Reporting Solutions at IHS Markit was selected for the Editor's Recognition Award for Best RegTech Vendor Professional as a "clear winner" during the voting process according to Angela Wilbraham, CEO of A-Team Group which hosts the RegTech Insight awards.
Commenting on the win she said: "Many congratulations to Ron Finberg for winning Editor's Recognition Award for Best RegTech Vendor Professional in our prestigious RegTech Insight Awards 2021. It's a real vote of confidence from across our readership of 30,000 senior technology officers and data specialists, who selected Ron as the clear winner in a very competitive field."
"Ron being singled out as the Best RegTech Vendor Professional is also particularly gratifying. It reflects the depth of his knowledge and his strong voice in the industry derived from his interactions with many of our clients, prospects, other providers in the space as well as running and participating in compliance forums and industry working-groups," concluded Ronen Kertis.
To learn more about our award-winning regulatory reporting solutions, contact us