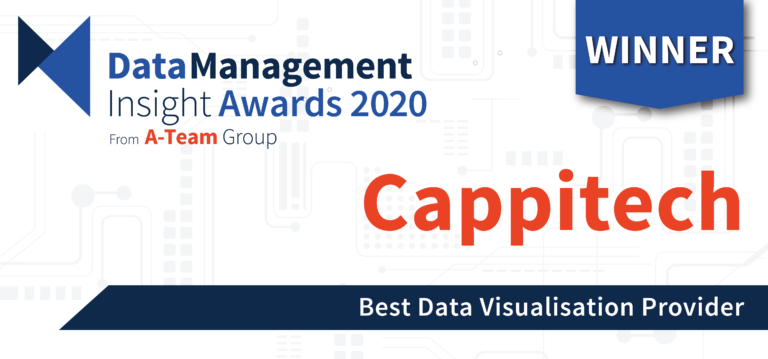 Cappitech Wins "Best Data Visualisation Provider" In Data Management Insight Awards 2020
Industry-wide recognition for reporting dashboard that offers accessible insights derived from high volumes of transaction data
We are pleased to have won 'Best Data Visualisation Provider' in the Data Management Insight Awards 2020.  These prestigious awards in the Data Management industry are voted on by industry participants and in 2020 more votes than ever before were received.
Angela Wilbraham, CEO of the A-Team Group, who hosted the Data Management Insight Awards 2020, commented, "Our awards recognise leading providers of data management solutions, services and consultancy to capital markets and Cappitech has proven themselves to be worthy winners. We congratulate Cappitech for winning the Best Data Visualisation Provider in recognition for the continuing excellence in the data management space."
For regulatory reporting purposes, data visualisation can help to identify ways to improve reporting quality and accuracy, pinpointing root causes for presorting issues and measuring and enhancing compliance KPIs. Cappitech's data visualisation tools are fully embedded in the platform and include:
Compelling use of UI and aesthetics to bring clarity to decision-making
Visual salience designed to surface important data
 A UX design that provides users with convenient access to information and the ability to drill down into data as needed
Natural language to remove the use of jargon and facilitate increased usefulness
 Actionable data with annotations and tips for problem-solving
Multi-device accessibility
Tailored for compliance managers
Ronen Kertis, Cappitech CEO and founder comments, "The need to manage, interpret and communicate data effectively is crucial because even the best data is meaningless if it can't be understood. While advance data visualisation techniques have traditionally been used mostly for revenue-generating teams, using compelling data visualisation in regulatory reporting has many benefits. We've long incorporated these advanced data visualisation techniques on our platform and believe that all compliance decision-makers should have these tools."
Are you interested in learning how data visualisation can help improve your transaction reporting?