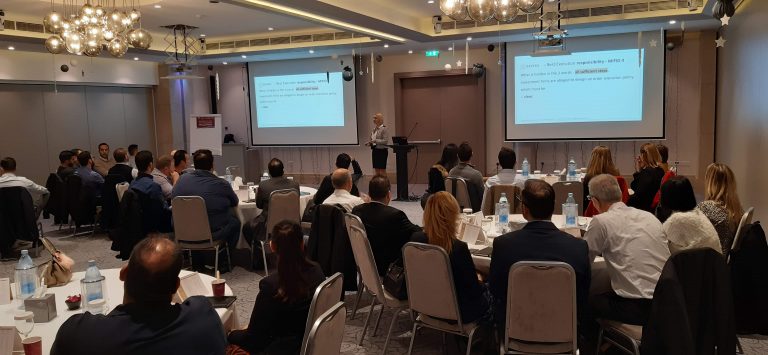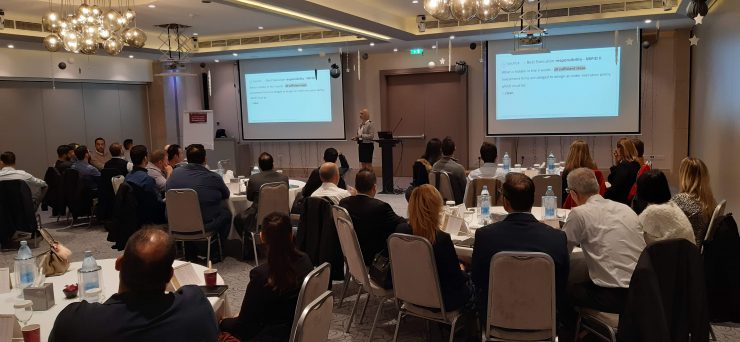 Discussing Best Execution, CySEC and Best Practices
Earlier this month, Cappitech held its first CFD Broker Compliance Working Group in Cyprus. After a number of similar events since the beginning of 2018 in London, we were well overdue to organize one in Cyprus. With CySEC recently conducting a review of Best Execution compliance among its member firms, the morning was focused on this topic as well as a MiFID II update.
Joining Cappitech to provide input and present about Best Execution and CySEC's review was Evdokia Pitsillidou of Salvus Funds, a Cyprus based compliance and risk management specialist.
Below are some of the main presentation and discussion points.
Key details when Creating an execution policy
Brokers are required to create an execution policy that they make public to their clients. But what does it need to include? Evdokia explained that main items include whether a firm is acting as the sole execution venue and if not, information about external venues. If an external venue has a connection to the broker, that must also be disclosed. Also, firms must explain what quantitative and qualitative factors were used in choosing client execution venues.
In addition to creating a policy, firms are required to include a format for handling client complaints or clarifications to the policy.
Notifying clients of policy changes
During the event, attendees raised the question of best practices to notifying clients about policy changes. It was explained that brokers can utilize popups when clients open up their platform that explains that were made and a button to click to confirm they agree with the update.
CySEC findings on execution policies
In their Best Execution Review, CySEC published that "A number of CIFs were not in a position to demonstrate in practice the arrangements described within the Order Execution Policy." Evdokia stated that CySEC singled out that is important for brokers to explain in detail arrangements with execution venues, liquidity providers and group structures.
Compliance teams are unsure of what to monitor and examples
According to CySEC, they also identified that many firms struggled to identify what needed to be monitored under best execution.
In this regard, CySEC listed a number of examples that fall under the requirements of best execution monitoring. They include:
Checking for asymmetric slippage
How quotes are built
Comparing prices to benchmarks
Reviewing execution venues
Monitoring speed of execution
Reviewing rejection and requote percentages
Asymmetric slippage and other price abuse
In their review, CySEC singled out a number of bad practices that they found among brokers. They include providing unfavorable prices to specific groups of clients, applying asymmetric slippage policies during volatile market periods, latency delays for executions, and putting in place minimum time limits for clients to close profitable trades.
Preparing for a CySEC or NCA best execution review
Evdokia stated that unlike other periodic reviews when regulators approach firms about best execution, they are usually on short notice. In the case of CySEC, meetings can be scheduled within 2-3 days. The review can be expected to include an interview of the Risk Manager, the Head of Dealing on Own Account, the Head of Execution, Reception and Transmissions of Orders, the Compliance officer, and an Executive Director.
Evdokia explained that best executions are very granular and require firms to provide details about their procedures, the pre and post trade process of their trading platforms including explanations of plugins and how executions are monitored.
Defining responsibilities and understanding who is responsible
Due to the inclusion of many topics and various broker employees involved in a review, the importance of preparing together was discussed. Beyond just for reviews, it was mentioned that it is a good practice for firms to have defined structures of responsibilities in their companies. Along with CySEC, many NCAs such as the FCA are putting an emphasis on investment firms to be able to demonstrate that employees and managers understand what areas of compliance they are responsible for.
Don't grade your own homework
In addition to discussing best execution, the morning event also include a list of problem areas related to transaction reporting under EMIR and MiFIR. They included companies incorrectly defining their trading capacity, inserting the wrong details in the buyer/seller fields in MiFIR, failure to collect LEIs of counterparties under EMIR and errors applicable to prices and ISINs.
Overall, firms were encouraged to use external sources to review their transaction reporting and best execution policies. Whether utilizing consultant and technology firms such as Salvus or Cappitech or taking advantage of the working group to speak to peers, the important thing is not to 'grade your own homework' when it comes to compliance.
Learn more about how Cappitech can help you with your regulatory reporting.